Preserved Beauty
My Beverly Jewelry is a best friend duo creating real pressed flower jewelry in Youngstown, Ohio. Most of the flowers used in their desgins come from the pair's home gardens.
The line is both simple and unique. Inspired by the duo's love for all things floral, whimsical and vintage. Each piece has been meticulously designed. From necklaces, earrings, bracelets, and rings, to apparel accessories, their collection has something for everyone to enjoy!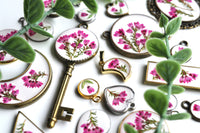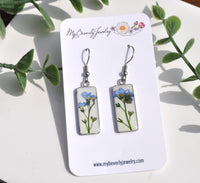 A Time Honored Art
My Beverly Jewelry designs showcase a large variety of Ohio native blossoms. Using traditional methods each flower is carefully pressed and preserved.
Testimonials
I ordered jewelry from These wonderful ladies in memory of my grandmother who died in October. They answered my questions quickly and assisted with the selection of the Best flower and color back ground. My family loves them and so do I! My grandmother suffered from dementia and I picked the forget me not flower. It's absolutely perfect and I'm so thankful for this reminder. I'm also thankful for the amazing quality!

Corie Berry
I was introduced to My Beverly Jewelry through a local festival and was thrilled to find them on Etsy to be able to purchase more! This is a beautiful necklace! It has a nice weight to it and is impeccably made. It looks great layered with shorter pieces. You will not be disappointed with a purchase from this seller!

Erin Blauser
Beautiful high quality pieces that you will treasure sums up My Beverly Jewelry. Everything is so beautiful and flawless. The girls who run this business are gifted artisans, and the are super sweet and fun to work with. I love their designs and the vintage sweetness that their jewelry encompasses. Each piece is unique and makes wonderful gifts for special occassions. I highly recommend!!

Jessaca Brickley